3 Phase & Motor Rotation Testers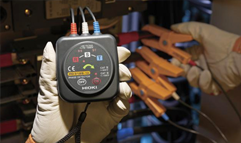 Phase Detector These device must be for 3 Phase alternating current that affects to direction of rotating of motor. If the phase sequence is not correct, the motor is rotated in wrong direction. Phase Detector was designed to determine phase sequence, as example below.
Clockwise
R → S → T
S → T → R
T → R → S
Counter Clockwise
R → T → S
S → R → T
T → S → R
The important thing to choose 3-phase meter is system voltage.