Voltage & AC detectors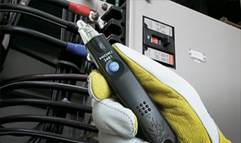 Voltage & AC detectors are a type of electrical measuring device. That designed to measure leakage currents in circuit or electrical system, with compact size, portability and efficiently without touching power cord directly. Provide user will be safe when checking electronic system, machinery or device. Voltage & AC detectors are measurement device for anyone who working in electrical or engineering to be safe before works.
Checking electrical system must be very careful. When working with electricity device, ensure that no part of body or tool is in contact with other parts of device that are subject to electric shock and strictly follow safety guidelines.