Tachometers & Stroboscopes
Tachometers & Stroboscopes There are 2 main types of measurement: Stroboscope and Tachometer.
Tachometer 2 types of measurement: Contact tachometer is direct contact with the object. Compatible with various adapters and Photo tachometers. It uses infrared light with reflective stickers. By infrared illumination to the rotating object and the machine will read the reflected value to calculate the speed
Stroboscope Use the principle of flashing light to capture. Also referred to as flickering light to the rotating object. The capture frequency is calculated as the number of frames per second (FPS) to calculate the speed of the object is rotating. This will cause the object to appear steadily


---
Tachometers & Stroboscopes Articles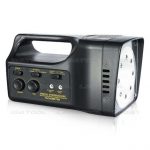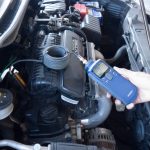 การใช้เครื่องวัดความเร็วรอบเครื่องยนต์ HT-6200
การใช้เครื่องวัดความเร็วรอบเครื่องยนต์ HT-6200 และ Sensor IP-292 มาตรวัดรอบ หรือที่เรียกกันว่า "วัดรอบ" หรือแทคโค มิเตอร์ (Tacho Meter) หน้าที่หลักก็คือ วัดรอบการหมุนของเครื่องยนต์ โดยนับหน่วยเป็น รอบต่อนาที ถ้ายิ่งกดคันเร่งมาก เครื่องก็ยิ่งรอบสูง ทำงานมาก วัดรอบก็จะมีเลขเป็นหลักหน่วย จาก 0 ไล่ไปตั้งแต่ 1-8 ตัวเลขนี้จะคูณด้วยหนึ่งพัน จะเท่ากับรอบการทำงานของเครื่องยนต์ต่อนาที เช่น เลข 3 ก็คือ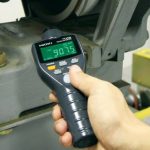 เครื่องวัดความเร็วรอบ (Tachometer) คืออะไร
เครื่องวัดความเร็วรอบ (Tachometer) คืออะไร เครื่องวัดความเร็วรอบ (Tachometer) เป็นอุปกรณ์สำหรับการวัดความเร็วในการหมุนของวัตถุเช่นเพลาเครื่องยนต์ในรถ. อุปกรณ์นี้บ่งชี้ว่าวัตถุนั้นหมนด้วยความเร็วเท่าใดในหน่วย รอบต่อนาที (RPM = Revolutions Per Minute) การวัดความเร็วในการหมุนของวัตถุเป็นสิ่งสำคัญเพื่อตรวจสอบการทำงานของชิ้นส่วนหรือระบบ.