Earth Resistance Testers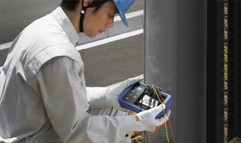 Earth Resistance Testers are a type of electrical measuring device. There are 2 types.
⇛ Pole Ground Resistance Tester is precise resistance measurement but many procedure. Suitable for maintenance or inspection prior to installation of the ground, such as measuring the resistance of electric poles.
⇛ Clamp on Earth Tester This method is simple, convenient, save time and easy to use. Suitable for initial resistance check and used installation of grounding systems, such as installation of electrical ground connections or electrical device.
Both methods of grounding resistance can be used effectively. That depends on job type and user's aptitude.