Paper Moisture Meters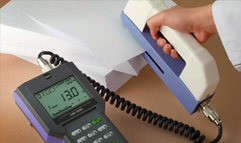 Paper Moisture Meters is specially for measuring paper moisture. The characteristics of the paper that absorb and evaporate moisture. This directly affects the elasticity and contraction of the fibers within the paper. The paper is bent and deformed.
The paper in normal environment has a moisture content of 5 to 7% per square meter. If low moisture content or higher, this will affects to weight of paper.