Insulation | Megaohm Testers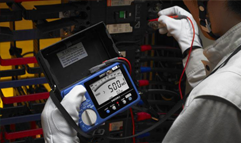 Insulation | Megaohm Testers These device send power to other device to measure the resistance and insulation analysis in device.
Application of Insulation tester Must be used carefully. Do not switch on the instrument at the time of use. Do not touch the device measured strictly, because Insulation testers will supply high voltage into device. If user touches the device, will cause electric shock hazard.