Electrostatic Field Meters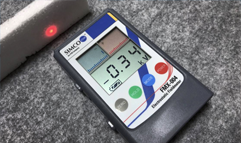 Electrostatic Field Meters are devices used to detect static electricity. This is a major cause of electronic equipment damage or unable to use, such as semiconductor IC devices are very sensitive to static electricity, as well as electronic devices with electronic circuits inside.
Electrostatic Field Meters are the electrostatic measurement of the area when electricity though pass. Measure by 25 mm. to find out where there is static electricity and the area where the charge remains. Has damage to the electronic devices? The next step is to measure resistance of surface to know if the surface is anti-static. An insulation measure that does not allow electrical current to flow or use the work area. Including socks, shoes used to prevent static electricity while working.