LCR Meters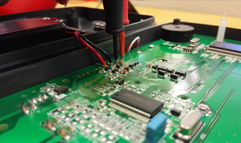 LCR Meters are mostly used for who works circuit and electronic device. These device used to measure parts in circuit board, and there are 3 types of electrical circuits.
⇛ L = Inductance is the property of an electrical conductor by which a change in electric current through it induces an electromotive force (voltage) in the conductor.
⇛ C = Capacitance is a part used to load electric charge and discharge, mostly used in electrical circuits.
⇛ R = Resistance is a part that used to resist the electric current passes, reduce voltage and limit electricity pass in circuit.