Scales
Scale or steelyard are the measurement tools that used for measured the object weight. There are many types such as dial scale that's simple and easy to use or digital scale with high accuracy and more functionable like waterproof, counting mode, unit selectable that depend by usagable.
3 important things before buy the scale and make no mistake
⇛ Max. capacity before buying the scale you must know the max object weight that which model can be support.
⇛ Resolution the high resolution is mean high precision such as 0.1 gram, 0.01 gram or 0.001 gram.
⇛ Pan size the object size is effect to scale such as pan size is support the object?, the pan shield to protect from the wind.
If we know the initial requirements as described briefly, we will be able to choose the scales easily and in accordance with the usage.


Scale Article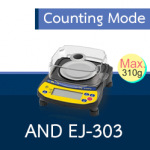 เครื่องชั่งน้ำหนักดิจิตอล AND รุ่น EJ-303 และฟังก์ชั่น Counting Mode
เครื่องชั่งดิจิตอล ส่วนใหญ่คงใช้งานการแค่เพียงชั่งน้ำหนักเท่านั้น เนื่องจากการแสดงผลตัวเลขผ่านหน้าจอ สามารถแสดงผลจุดทศนิยมได้ละเอียด แต่บทความนี้ Lega tool ขอนำเสนอ ฟังก์ชั่นนับจำนวน(Counting mode) ที่เปลี่ยนการชั่งน้ำหนักแบบธรรมดาให้ เป็นการนับจำนวน(ชิ้น) เพื่อสะดวกต่อการใช้งาน เช่น นับเม็ดจำนวนยา นับจำนวนชิ้นงาน หรือ คำนวนสูตรทำขนม เป็นต้น.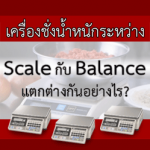 เครื่องชั่งน้ำหนักระหว่าง Scale กับ Balance แตกต่างกันอย่างไร?
เครื่องชั่งน้ำหนักโดยทั่วไป เราคงคุ้นเคยกับหน้าตา และการใช้งานกันบ้างแล้วสำหรับการจับจ่ายซื้อข้าวของ อาหาร เนื้อสัตว์ ผัก ผลไม้ ที่ตามตลาดร้านค้าต่างๆ ชั่งตวงก่อนคิดราคาสินค้า เช่น เครื่องชั่งแบบเข็มที่มีหน้าปัดแสดงตัวเลขน้ำหนัก, เครื่องชั่งดิจิตอล นิยมใช้กันอย่างแพร่หลายตามห้างสรรพสินค้า ซุปเปอร์มาร์เก็ต และเครื่องชั่งแบบตั้งพื้น ที่ชั่งน้ำหนักในปริมาณมากๆ เช่น ผลไม้จากสวน เนื้อสัตว์ หรือ ชั่งตวงน้ำหนักข้าว เป็นต้น