pH Meters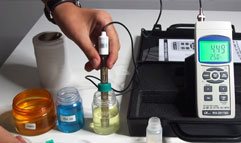 pH Meter There are 3 types of types of pen, portable and benchtop
⇛ Pen Type : The unit is small, portable, easy to use
⇛ Portable Type : Is much larger than a pen, easy to carry, most often have a separate probe. And there are other measurement functions besides pH measurement
⇛ Benchtop Type : Is large. Highly functional Ideal for experiments or studies.