Imaging Moisture Meter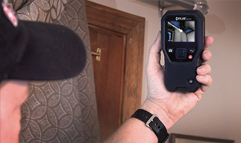 Imaging Moisture Meters are device that can find the moisture problem quickly and accurately, it doesn't random sampling in large area, which is time consuming to find.
In addition to being able to check the moisture area quickly. It can also be used to capture the area by using method of detecting temperature of evaporated humidity, which is below the normal temperature.